We are proud of our team here at Royal Billiard & Recreation. As a second-generation family business, we recognize that our staff drives our day-to-day operation and we are proud to include them in our work family. Therefore, once a while, we'll be introducing you to a member of our team.
Our team leader, and the proprietor of Royal Billiard & Recreation, Audra is the heartbeat of our team.
In 1982, Audra's parents, Frank and Connie, opened Royal Billiard & Recreation in Montgomeryville, near 5-points intersection. For the next decade, as they grew the business, Audra had very little interest in joining her family in selling pool tables and other home recreation games.
That's not to say that Audra didn't help out! Her first job at the store was preparing pool table rails for installation by stapling the cloth on them. And, as a teenager, her favorite job was "guarding" the hot tubs at night, with her friends' "help", when they were in on display in the parking lot. (She'll readily admit that was more of a party than a job!)
Upon graduating high school, Audra headed off to college and soon started a career as a day trader of municipal bonds. And, for a time, Audra continued her education in Texas. While on summer break in 1993, Audra came back to Pennsylvania to assist her parents at the store. She never planned on staying… but here she still is today!
Why did Audra changer her mind and stay after the summer of '93? She'll happily tell you that it was the people. She fell in love with helping customers to find the perfect gaming table for their whole family to enjoy. She also was enjoying rekindling a close relationship with her parents while working with quality products provided by conscientious manufactures.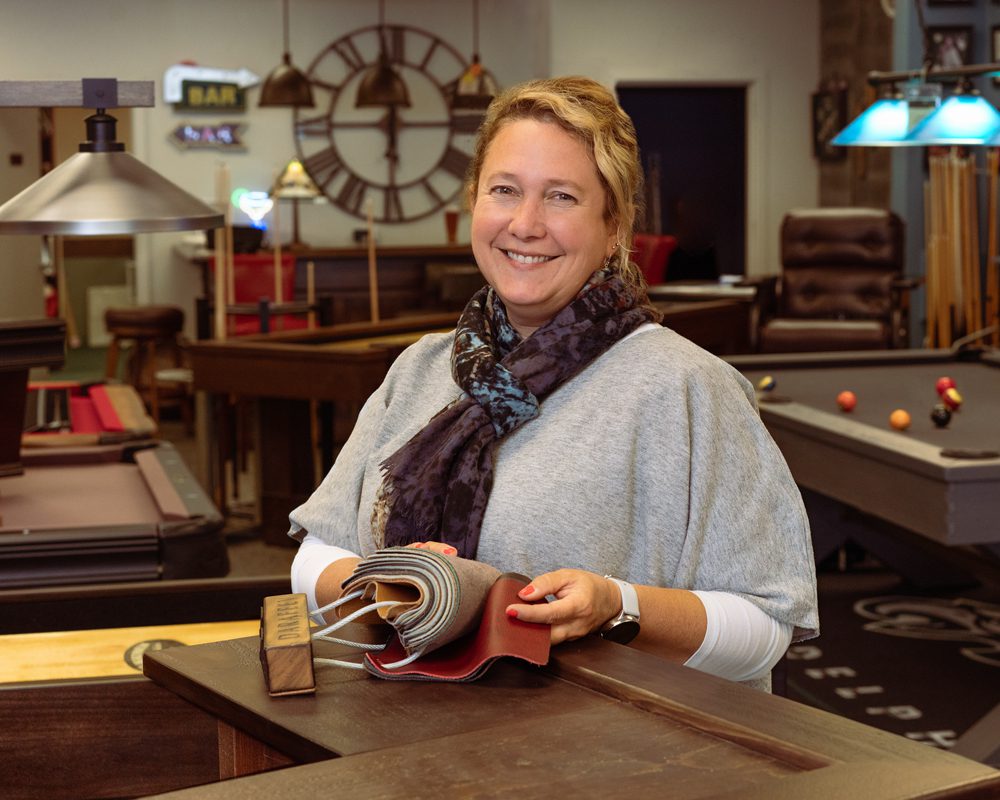 So, 28 years later, Audra is happy with the decision she made to switch careers back in 1993. Of many accomplishments over the years, Audra is proudest of: 
Going forward, Audra plans to keep Royal Billiard & Recreation's offerings current with design and style trends while continuing to carry quality products; much of which is made by American manufactures and local craftspeople. 
What's Audra's favorite game, you wonder? It's shuffleboard. A friendly game of shuffleboard always takes her back to fond memories of family reunions at her grandparents home and all the fun she had with her family. 
When not at the store, Audra, her husband and three boys enjoy playing games, traveling, kayaking, and hanging with their two dogs – Petey and Bella.  Audra is an avid reader and tennis player.
When you shop at Royal Billiard & Recreation, you can count on quality products and services supported by experienced professionals, like Kent. Whether you are considering upgrading your game room or have a pool table in the need of service, stop in or call to talk to our team.
Have a question?
Call/Text:
215-997-7777
email:
sales@royalbilliard.com
Visit:
2622 Bethlehem Pike
Hatfield, PA 19440