Wall Mounted Shelf & Bar – Reclaimed Wood
A one-of-a-kind wall bar and shelf made from reclaimed barn wood.
This reclaimed wood wall mounted bar and shelf is part of our functional game room decor line built with reclaimed wood. The shelf is crafted right here, by the craftsmen at Royal Billiard & Recreation. Since this shelf is hand-crafted, every unit is individually unique. Your new billiard room bar and shelf will be one-of-a-kind!
The ends of the shelf are notched, allowing for cue sticks to be supported. (Optionally, you may add a hook under the shelf to hang your ball triangle and diamond — not included.) Does not include accessories shown in image.
Available for purchase in store or online.
Please note that if you order online, due to the uniqueness of this product and the fact that it is not mass produced, the item you receive will most definitely have minor difference from the images here.
Dimensions:
40″ wide
7″ high
7″ deep
25 Lbs.
These items are usually in stock, but there may be a lead time of up to 3 weeks before shipping to build your one-of-a-kind cue rack. Please feel free to contact us to check availability.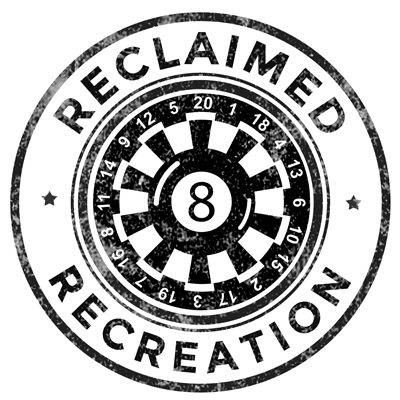 About Reclaimed Recreation
As a leading retailer of game room products since 1983, we recognized there were very few options available to homeowners when it came to functional game room decor with rustic appeal that is both environmentally friendly and affordable. So, our guys hit the workshop and got creative! The result: the Reclaimed Recreation line by Royal Billiard & Recreation.
All Reclaimed Recreation game room products are made from up-cycled, re-purposed pallet wood. We are careful to make sure all pallets are 100% free of chemicals and safe for your home and family. Our craftsmen build each unit right here, at Royal Billiard & Recreation. Due to the nature of this line of beautifully rustic items, each product is one-of-a-kind and wholly unique.